Invitations were probably one of the most painstaking parts of wedding planning. I highly recommend all future brides send out save the dates to their wedding because it's an excellent way to get your guest list in order. For me, that was one of the biggest hurdles, followed by choosing a design.
Due to being a
Southern Weddings
addict, I was convinced the invitations had to be letterpress. Letterpress is
beautiful
, it is
classic
, and my aunt told me when I got engaged-
your invitations will set the stage for your wedding.
Now that may or may not be true, but I decided these puppies had to be perfect. However, letterpress is rather expensive. Most invitation sets started at $5. With 200 invitations to order, I wasn't ready to commit to so high a price.
I decided to look on Etsy and find a DIY printable template to submit to a printing press. This idea, separating the designer and the printer, saved a couple hundred dollars. I choose a vintage rose design by
Encre Studios
and the owner, Nadia, was super nice and patient with me while I went back and forth finalizing little details like the time of the ceremony and the RSVP cards. The design cost me $60 which is really quite a steal.
I didn't capture the pressed detail of the flower well in this photo,
but you are able to see the pressed font.
I submitted the pdf files to
Mercurio Brothers Printing Press
. Nadia knew how to prep the files for pressing and Mercurio had no problem using her files. I paid around $1.45 for the invitation and $1 for the rsvp enclosure, which was great. However, I had to order the inner, outer and RSVP envelopes which cost me about $150. I didn't really plan for it and it took away from some of my anticipated savings.
A wonderful lady from my church, BJ, agreed to write my addresses for me. She did it for free and it was so nice of her. She wrote with a fountain pen and her handwriting is
beautiful
. I picked the ocean blue ink, in hindsight maybe I should of just picked navy, but it was nice contrast to the navy ink on the invitations. For all y'all future brides, I highly suggest living in the same town as the person who writes your addresses rather than getting it done by someone far away who you're communicating with online. There were a few mistakes and some people added at the last moment and it was so much easier (and faster) to be able to go to BJ's house and have her work with me to fix things.
a labor of love :)
To address my RSVP envelopes, instead of making BJ's fingers fall off, I purchased a calligraphy stamp which I also used for my return address on the invitations. I purchased the stamp from
BP invites
. It cost $50 and initially I was hesitant to pay such a high price, but it was
totally
worth it. The stamping went smoothly and the presentation was beautiful.
proof (edited for privacy! )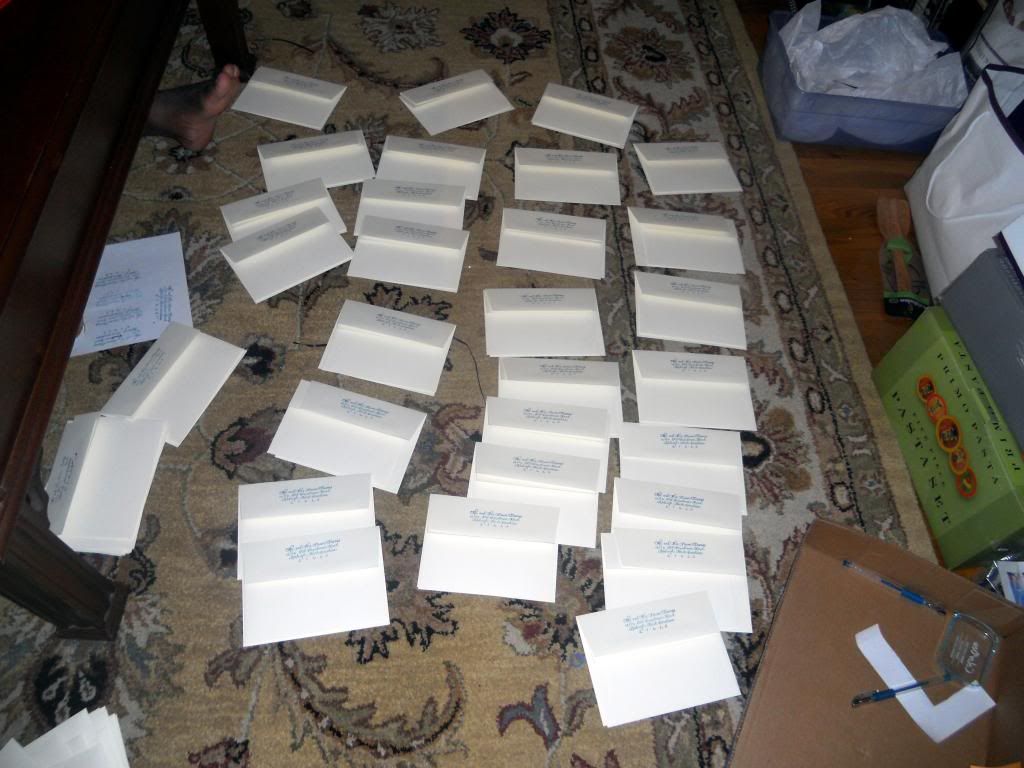 stamping away...note all the bridal shower gifts on the right!
I used mini moo cards to tell folks about our wedding website. I decided to add a picture on one side give it a modern touch and it was quite a hit with our guests.
Lastly, I decided to be cumbersome and use tissue paper to separate the RSVP envelope and the invite (it also stopped the ink from rubbing) and to tie the set with navy ribbon. Fellow bridal blogger
Amanda
warned me that tying the invitations would be a huge task. Thankfully, my mom encouraged me to get some girls together and have an invitation tying party. So my mom, my godmother, a family friend and my friend Emily (who introduced Aaron & I!) all got together and tied invitations one Sunday night. This took a little of 3 hours so there was
no way
I would have gotten it all done had I tackled it myself!!!
Emily working hard
stacks!!!
The final product. :-)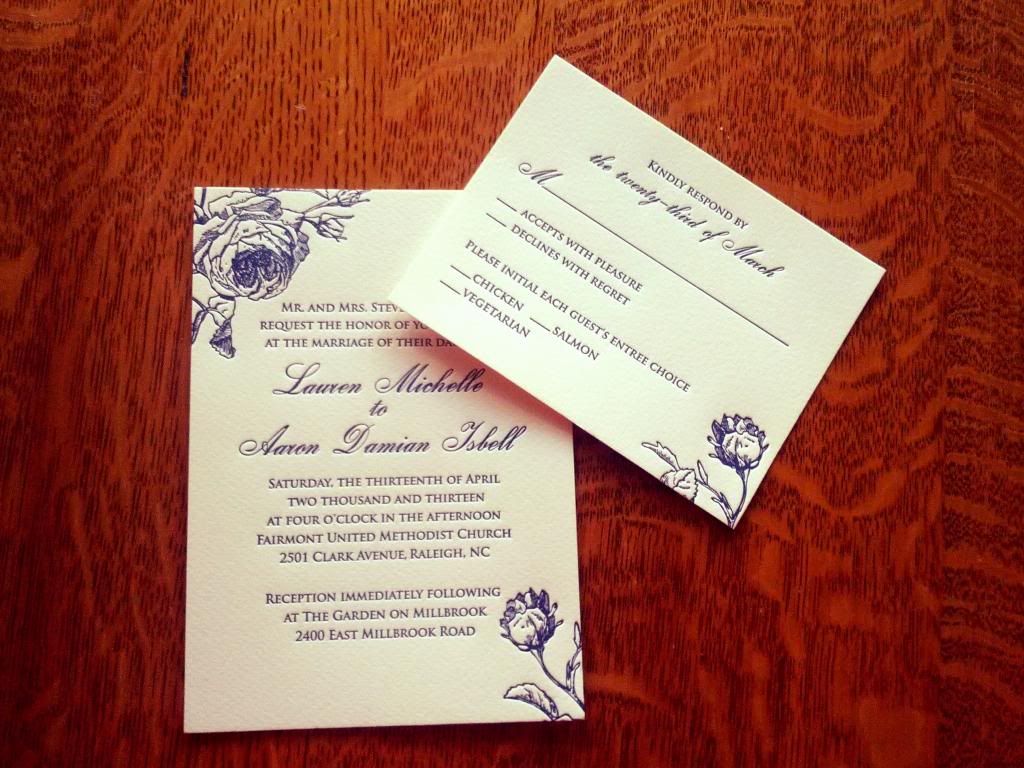 Yes, I sent a letter to the president!
Things I didn't do
-have a separate reception card. It saved about a dollar an invitation and I don't miss it one bit.
-multiple stamps. I think they look beautiful, but invitations is such a daunting task I wasn't ready to make it any harder. Hello classic wedding cake stamp! I went to
five
post offices in order to obtain 200 stamps...that's really the fault of poorly stocked post offices. No wonder USPS is going under!
-a special seal for the envelopes. Skipped that, didn't miss that.
Things I did do and would do again in a heartbeat
-take almost a month to choose the invitation design. I looked high and low and went to local shops and ordered a ton of samples online. I came close to settling, but I'm so happy I found Nadia on Etsy and chose a design that really had my heart.
-letterpress invitations. I wouldn't look down on anyone who didn't use letterpress, but I loved the result and would recommend Mercurio to anyone.
-mini moo card with our photo. It's the most talked about part of our invitation suite!
Things I did and wouldn't do again
-not properly price out the true cost of design+printing+envelopes+tissue paper+moo cards+stamp+ EVERYTHING lol. Really without a wedding planner there is no way to guess these costs. That is why I am sharing them freely with you so if you're planning a wedding you can be prepared. :-)
Hope you enjoyed the post! It's officially 1 MONTH UNTIL THE BIG DAY!!!