The To Dos I completed this week...
-Find location of for bridal luncheon-
Pie Birds.
Unique, delicious and affordable! Yay!
-Order groom's cake-
Blue Moon bakery.
Design-wise it will be simple, but it will be delicious!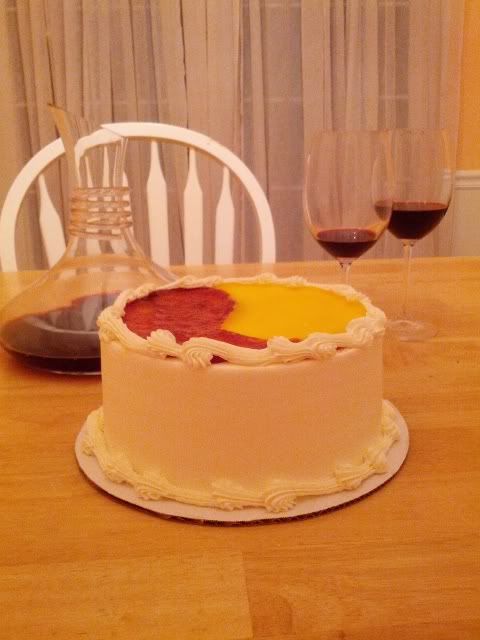 The cake from Blue Moon Aaron got for us on Valentine's Day <3
-Finalize wedding transportation-I had to save money somewhere, so my maid of honor/sister will also be the bridesmaid chauffeur to ceremony and reception :-)
-Bow ties for the groomsmen have been ordered and arrived at Aaron's house, but I haven't laid eyes on them yet.
Still on the To Do list...
-Wedding program-I found a template online and it's in the works. However, I need to buy cardstock. I also need a printer...
-Decide on reception lighting-I met with Mark Peelman on Wednesday and he's working on a proposal for me
-Wedding bands-after testing out a few, we decided to go with the Simply Bridal by Hearts on Fire. The Tacori band to match my ring actually doesn't fit under my ring (crazy) and we wanted a flush fit. This band looks like it was made for my ring!
However, with Aaron's band we are still undecided and time's running out!
-Also next week I am going to look over my centerpiece vases and make sure I have enough!