Hello everyone! Sorry it's been a while since I've posted! Lately I've been getting a small stack of RSVP cards in the mail everyday and it's so exciting!!! I know in a few weeks I'll be making quite a few phone calls to recruit the stragglers however. :-) I'm going to do a post in a few days on invitations, but until then here is a sneak peak!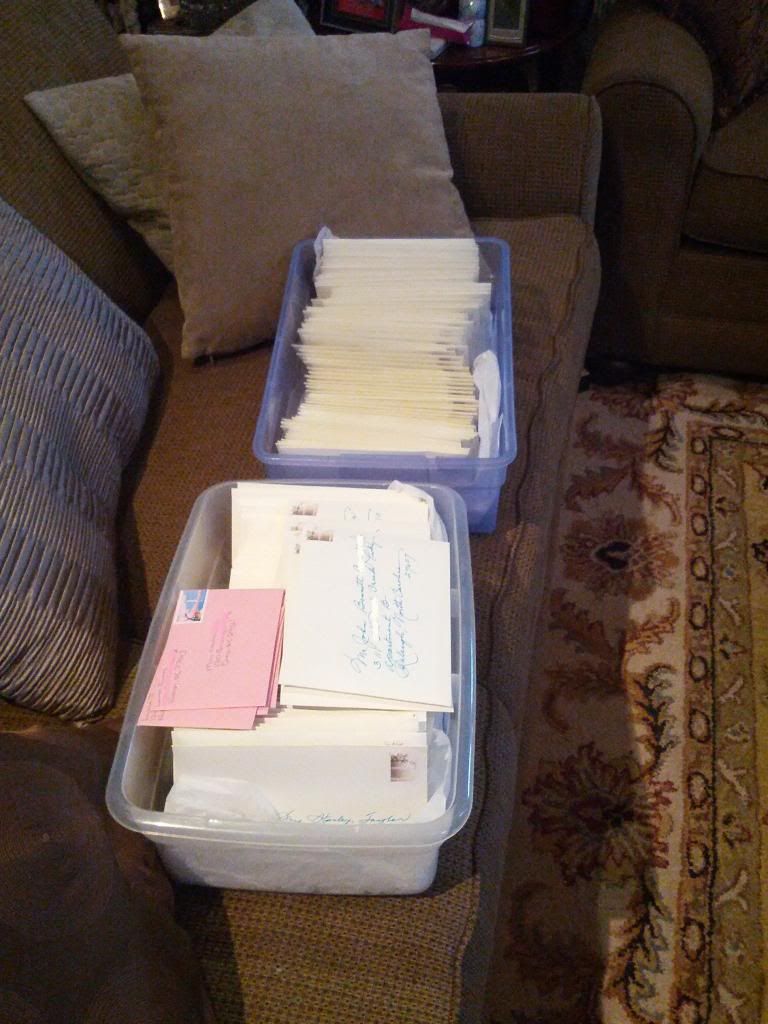 truly a labor of love!
The envelopes in the pink are thank you notes for our amazing shower gifts. Speaking of which, I'd like to take a moment to stand on soap box (this blog) and say a word about gifts. Some couples get married and decide that they don't need any household items, or, rather, they'd just like to save and have a house...or a honeymoon. In Aaron's and my case, we needed household items. Aaron's house is the definition of a bachelor pad and it's need of a sprucing up. So I was thrilled to grab the scanner gun and run down the aisles of Bed Bath and Beyond. However, if that's not you, I suggest you still register. Especially if you're in the South and your mama's book club is coming to the wedding, the church ladies and the ladies your grandmother lunches with. If they want to give you cash, that's their prerogative. If they don't want to buy off your registry, that's their prerogative too. Shut up and smile and remember if you really want cash, Bed Bath and Beyond will give it to you for whatever's bought off your registry even if you have no receipt. So everyone wins and just be happy people want to give you stuff. Some of the stuff you needed and didn't even know you needed. Even if you won't use all of it, they're giving it to you because they love you. Without further ado, some fabulous gifts that scream love.
These gorgeous cubes were handmade and used as decoration at our couple shower. There's a different picture on every side adorned with cute sayings such as 'I do,' 'to have and to hold,' and 'love.' I am going keep them and use them as Christmas decor and a reminder of our engagement and how thoughtful and supportive people have been.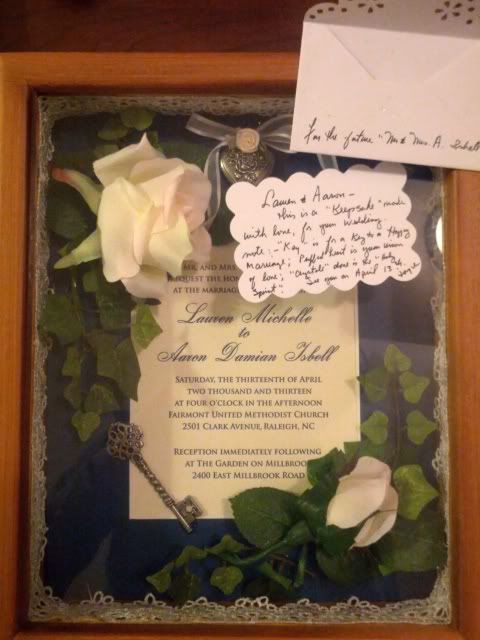 Invitation sneak peek! This is not truly representative because the borders (and what I would call the beauty) our invitation has been covered in the shadow box. So I don't mind sharing it early. Anyways, a super sweet family friend took our invitation and placed it in a shadow box with the following -
a
key
to happy marriage,
a
heart
as a symbol of love and a glass shadow box to represent the holy spirit surrounding our marriage. It was so sweet of Ms. Joyce to make this for us.
The traditional gifts. Although I wouldn't call receiving china for a wedding shower traditional-usually bigger gifts like that are left for the wedding! However it was nice of my friend and, of course, me being that girl that wants the impractical things like china I was shocked and thrilled! Our first place setting! yay!
This is the last gift I'll share today. This book is so famous we actually got it twice, which worked out because I gave Aaron a copy and we're reading it together (he's actually ahead of me at the moment, unbelievable). It's about how couples express love in different languages. The writer was a close friend of the family's youth pastor and he recently was on Oprah talking about the book and how life-changing its been for couples. Another couple I know is using it for marriage counseling. I'm so excited that Aaron and I will be able to use it to help us, too. It was one of things we needed and didn't even know we needed.