Hello! I hope everyone is warm and safe!!! Hurricane Sandy sailed above North Carolina for the most part, although there was one ship caught in the storm in the Outer Banks. So far 14 sailors have been found alive, 1 was found dead and the ship's captain is still missing. So sad!
I've been juggling a few new things-working in the emergency department, interviews and, as always, wedding planning! The Save the Dates are in but I'm waiting on my
fianc

é
*ahem* so I can get the labels printed and the save the dates in the mail. Invitations should go much smoother-after they come in, I'll already have everyone's address and I'll just pass the list to the calligrapher. But first, I have to
choose
an invitation...that's a whole 'nother blog post!
I've also decided we're going to register before Thanksgiving. So excited to grab the scanner...any tips? I'm thinking Bed Bath and Beyond and Amazon.
Lastly, I ordered place cards for the wedding. This was my inspiration:
So I ordered the cards cards off of Etsy. I got 230 cards for $40 which included shipping...enough for all of guests and some mistakes.
The cards came and the picture was pretty accurate. Yet the only thing was, they were a little larger than I expected...silly me, why didn't I measure it out on scrap paper before I ordered? I didn't see how I would fit 200 of these on a table. Maybe on 2 tables. Then all of a sudden, the voice of no other than
David Tutera
popped into my head "there's a difference between
place cards
and
escort cards.
" I had ordered place cards! These would go at the table, telling people where to sit- not seen at every wedding, but critical when you're having a sit down dinner like we are and guests pre-ordered their e
ntr

é

e.
So, now I had place cards. I think I'll still be happy with them. We'll see. I still need escort cards and I now I realize escort cards for 200 people is a lot. My mom suggested I do a poster like below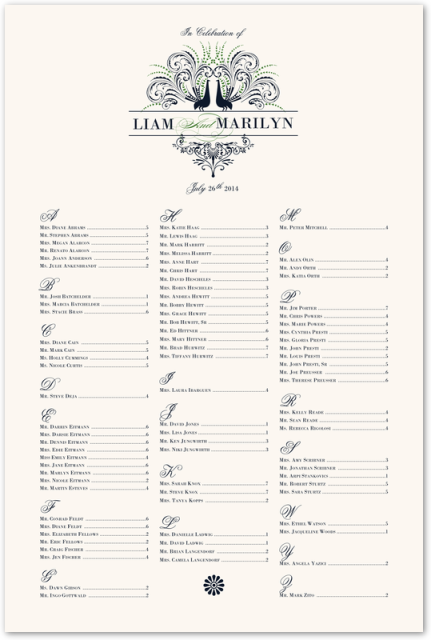 Worth considering. I could print one at kinkos a few days before wedding. Get some Etsy designer to help me with programs, seating chart and table numbers.
Or, I could still do an escort card table...
And if you're confused, sometimes escort cards can double as place cards, but that gives your guest the responsibility of putting their escort card on their table and not losing it. Only important if you're doing a sit down dinner with more than one
entr

é

e.
Ugh, it is going to be a
pain
to write 200 guests names twice! But I figure I will start early and write the names, then only writing the numbers the week before the wedding. Everyone who ever watched a wedding planning show like Bridezillas knows seating charts are evil...the night when this is performed will need lots of wine!