I seriously had a fabulous weekend. It was so much fun and I have Aaron and Allison to thank for that. They both came down and visited me in Charlotte. Aaron came down first on Friday and we went to
Cowfish
, a burger and sushi restaurant, for lunch.
These are tuna and crab ragoon nachos that were amazing. The "nachos" are wonton chips! So tasty and fun. They had more traditional sushi as well, but we had the burgers.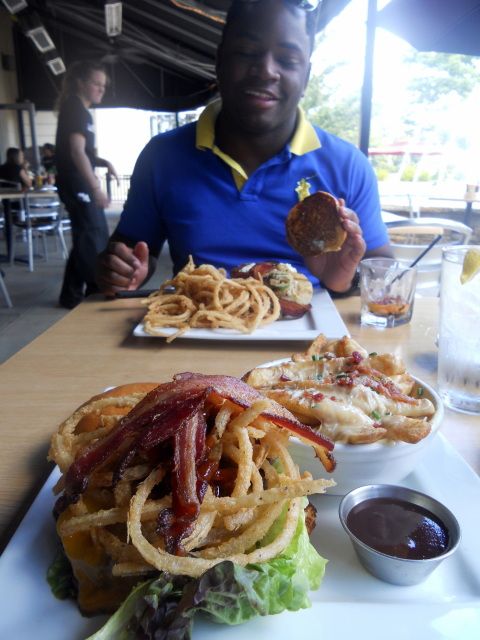 I had my all-time favorite burger, which is cheddar cheese with onion straws and BBQ sauce. I usually don't add bacon, but it came with it and I wasn't complaining! Aaron went all out, topping his burger with pulled pork and grilled pineapples. They were delicious, hands down. They're coming to Raleigh so the manager gave us coupons to visit the new location in North Hills this spring!
Afterwards, Aaron and I went to a jewelry store in Southpark to look for wedding bands. I've already tried all the Tacori bands with my ring, but surprisingly nothing looked too stunning. They all seemed to take away from the ring and be bothersome. Yet on Friday, we finally found a band by Hearts on Fire that sat flush and sparkled beautifully. It actually added to the beauty of the ring! I'm super excited about exploring our options through Hearts on Fire, as well as Brian Gavin, who cut my center stone. If any of you girls are wondering about diamonds, never put your carats over your cut!
Later that night we went to Wet Willie's! Aaron's hasn't been to the one in Miami and without Ocean Avenue it isn't quite the same, but we still had fun. If you haven't been before, it's a store that sells frozen alcoholic drinks, about 20 different flavors presented to you in a row of slushee machines. In Miami, drinking in public is legal and you can stroll down the beach with your drink :-)
After drinks we went to Comedy Zone, where Rachel Feinstein from "Last Comic Standing" was performing. I usually don't like comedy if it's too vulgar, but she made me laugh a lot. The show was definitely still rated R, but I would go see her again. Women comedians are pretty refreshing.
This is such a long recap! I'll try to wrap things up. Aaron and I visited his family on Saturday morning, then Allison came down on Saturday and we went to Southpark. It was nice being able to admire Louboutins, Miu Miu, Prada and the other designers up close! I tried on some Ippolita bangles and almost died. I think my favorite stores however were Tory Burch, Kate Spade and BCBG, probaby because they're the most I could ever see myself spending without feeling too ridiculous. Afterwards, we went out to eat at Cabo Fish Taco and then headed home to have drinks and watch scary movies at my house. We watched
Women In Black
with Daniel Radcliffe and I was definitely a wuss.
It all wrapped up today with some early morning thunderstorms today (I LOVE cuddling during thunderstorms), froot loops for breakfast and some light afternoon shopping. Now everyone's gone and it's just me! This week will be plenty of WORK so I can have another fun weekend next weekend!
Aaron learning "the art of shaving" at the mall
Allison and mutant burrito at Cabo Fish Taco