Did you watch Gilmore Girls in high school? I did! It was a great show until Rory went to college and then left college, they started featuring Paris all the time, Rory hooked up with a married Dean (boo) and what used to be subtle, humorous comments became in-your-face punchlines every 3 minutes. Somewhere, not sure where-maybe moving to college, maybe cutting her hair, maybe dating Logan who gifted her a Birkin bag (really?)- the show 'jumped the shark.' And it was never the same...but I should move on. What' I'm trying to say is, Lorelai got me curious about bed and breakfast inns and despite the show getting crappy I am permanently in debt to it!
My first bed and breakfast experience was with Aaron on a trip to Asheville. We stayed at the Wright Inn.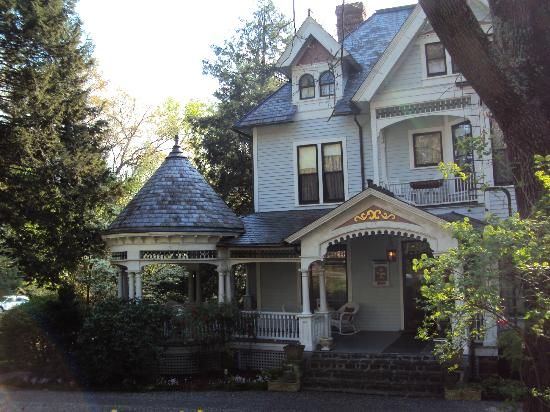 The inn is a beautiful, Victorian house which is just as gorgeous inside.
Foyer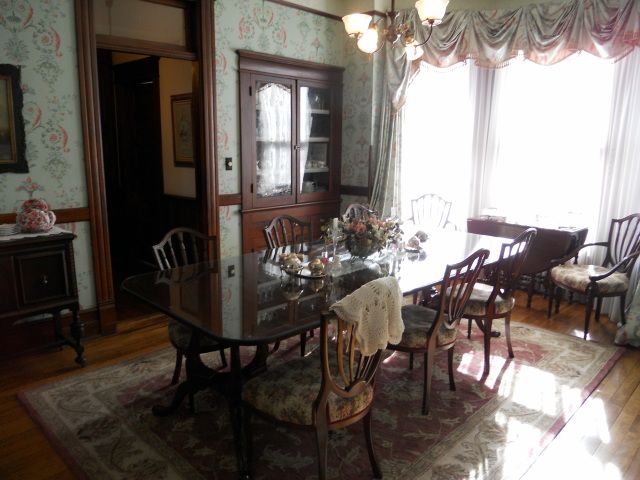 Dining room
Our bedroom
It was fabulous. We paid slightly more than you would pay for a mid-range hotel (~$160) and it was totally worth it. I would rather have the unique experience over any cookie cutter hotel room. Plus, the breakfast rocked.
That vacation was 2 winters ago, last winter we got engaged. Since then, we've put vacations on hold while saving for the wedding + our lives together, but we did get a chance to go out-of-town for a friend's wedding this September. So we went back to Asheville! We stayed in a different bed & breakfast, picked purely on proximity to the reception.
This is the Bent Creek Lodge. It's hard to tell from the picture, but it is located on a mountainside and you travel up a short, winding road to get to it...you really feel like you are getting away. :-) We were also less than 5 minutes away from the Asheville arboretum (where the wedding was held) and the Blue Ridge Parkway.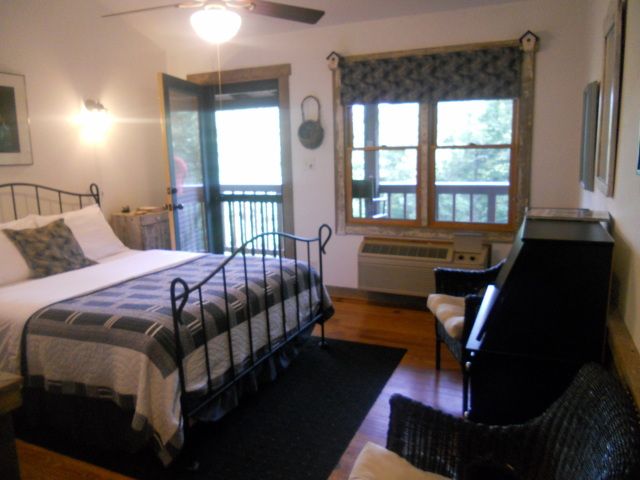 Our room
View from our balcony
Delicious, hot breakfast!
Both places were awesome and I would give each rave reviews. If you ever consider the 2 of them, just know the Wright Inn is located closer to downtown Asheville while Bent Creek Lodge is more on the outskirts (not a bad thing-great for relaxing).
Here are some tips if you decide to consider a bed and breakfast
-use bedandbreakfast.com for reviews
-know that some bed and breakfasts have check-in requirements or requests, such as please check in by a certain time, like 7 pm, or alert the owners of what time if you will be later. This is because most bed and breakfasts don't have someone manning the desk 24/7, but usually there is always someone on-site to assist you
-some bed and breakfasts have breakfast at a communal table, others will allow guests to sit separately. Aaron and I found that we prefer the first and have made some great friends :-)
-despite the dated housing, most bed and breakfasts will have fully updated bathrooms
-however, not every bed and breakfast will include a television in the room
-be sure to pick a room online before booking! this is fun, allows you to pick a floor of the house and allows you to choose a bathroom to meet your needs (double sinks? tub?)
This is all I can think of for now, comment below if you have any more questions-or recommendations! I look forward to Aaron and I visiting more bed and breakfasts across the country, at the beach, in large cities. Just another way to add adventure to your vacation!