After having two crazy-fabulous weekends in a row, this weekend was all about me time. I stayed alone in Charlotte and my roommates (students in healthcare professions also working away from home) left. Here's what I was up to....
On Friday, before starting my "me weekend" and I went to Gastonia and met with Aaron's mom and niece to go flower girl dress shopping. Grace had too much fun. We went to so many stores and as it grew later in the day my energy waned while Grace's was growing exponentially. We went to Bedazzled Bridal and Poffie Girls in Gastonia, David's Bridal in Charlotte, Anjolique's in Huntersville, Mecklenburg Bridal Gallery and another David's Bridal in Pinesville!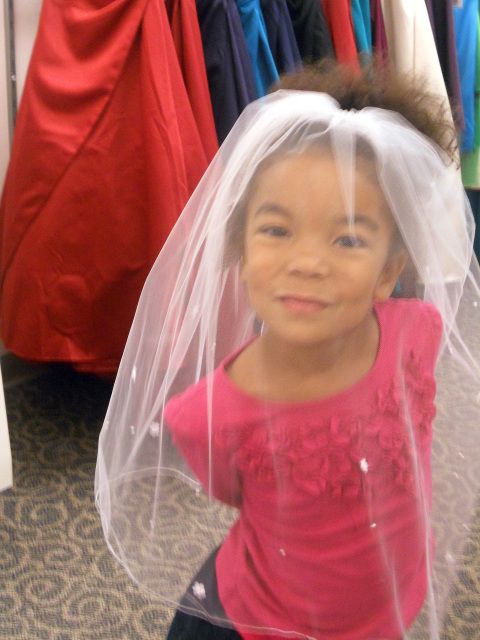 Grace put this on immediately...she said now she was a bride!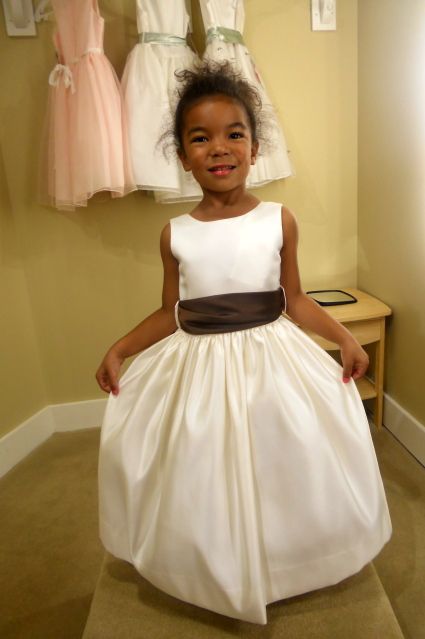 Our flower girl will have no trouble posing for pictures :-)
Energy levels going up...
Aaron's mom was so patient and drove us everywhere, never complaining when some boutiques only had 2-3 flower girl dresses. David's Bridal definitely had the most options however and at the second David's Bridal we finally found a beautiful dress!
I think we've found a winner!!!
The dress! A bit plain at first, but I really liked the tulle skirt. I put a Vera Wang White flowered sash on Grace and it all came together! I wish I took a pic with the other sash but I was exhausted. The sash is too expensive to purchase ($78 while the dress is $99), so I will look on Etsy and in Raleigh for similar pieces. I'm happy our hard work paid off!! I went home that night, watched Golden Girls and lounged!!! I was so tired.
On Saturday, I did some schoolwork and passed time looking at bridal inspo. However, on Sunday it was hardcore wedding work! Aaron and I skyped and worked on our engagement announcements. My grandparents are from small towns so putting the announcements in local papers ranges from free to $50, including a picture. However, the News & Observer, our local paper, is so much more! $5 a line and $130 starting if you want a picture. I'll probably beg my mom to just to put a text announcement. I really want to see it, clip it and save it!
I also ordered
-placecards for the wedding (more on that later this week)
-save the dates! finally! :-) people will probably get them around the 5 month mark. Now to work on collecting addresses!
Finalizing our save the date design was so painstaking, then when I was finished the site messed up and lost the design and I had to do it again! ughh...I almost had a breakdown but then I promised myself Chipotle for dinner and all was well!
slowly crossing stuff out :-)