So....bridesmaids! Just this week Allison-excellent MOH-placed the order for Bridesmaid dressses. Let me tell you what the experience was like.
story narrated by Bridesmaids...
-choose bridesmaids. Refer
here
-try on bridesmaid dresses, mostly solo, for 3 months and remain unsatisfied (this was harder than my wedding dress y'all)
-finally go to Charlotte and find the perfect dress there, try it on once and done
Jim Hjelm 5051
Silk dupioni? check!
-get various price quotes for the dress, with the largest difference being $100 (what?!)
-BridalMart once again had the lowest price, but wait- Netbrides.com was offering price matches with no tax and free shipping. Great reviews on the Knot, so we went with them.
-ask girls to measures selves and send in checks
-approximately half of the girls report to me that their size makes depressed, obese. Another states her bust size is two sizes smaller than her waist. I console girls, request the the latter one get breast implants :-)
-the one girl who didn't have a problem with her size? didn't even measure herself. Allison requests girl actually measure herself, so she does, then my mom calls my anxiously saying that my friend is too busty for the size she attempted to order and cannot order this size or she will "pop out" coming down the aisle...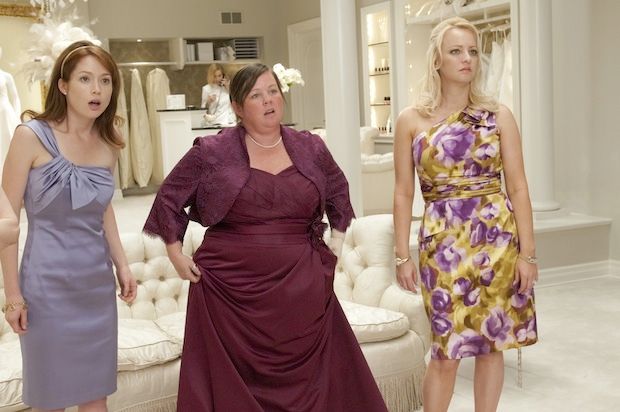 How the other girls will look at you if you do, in fact, pop out of your dress...
-12/6/12 finally! dresses are ordered! Promised to come no later than March, hopefully earlier.
Now what? Onto shoes and accessories. I really want everyone to wear gold shoes, which my aunt threw a fit over during Thanksgiving. She literally complained for 20 minutes and kept repeating that they should be silver. Then my cousin chimed in as well. It was the first time I met someone-outside of my mother-that had really strong opinions telling me what to do with my wedding. And she wasted her breath, because bridesmaid shoes will still be gold!
Another Team Navy + Gold! Take that!
After talking to Hooman, he suggested I let the girls pick their own shoes. It's probably for the better, because if I picked the shoes no one would be wearing heels less than 3.5 inches. I honestly don't understand the low heel on a 20-something-year-old - you're young! you're sexy! Why on earth would you be wearing a 1.5 inch heel?! But, Hooman told me to let my girls be comfortable, so I'll let them pick their own shoes...high heels encouraged, low heels acceptable.
And accessories? Not sure yet. I'll probably let the girls pick their own necklace when their dresses come in (something else my aunt had a problem with, insisting they needed to be matching rhinestone necklaces). The only guidelines will be that they can range from delicate to moderately chunky, but not overly chunky....yup, that's pretty clear, right?
Bridesmaids don't have to be clones...
So what's next regarding adventures in bridesmaids? Bachelorette and bridal showers! No idea what Allison and Quiana (my cousin) are planning, but I know they're putting their heads together. We'll see!
Time to travel!
I would love to show up to my bachelorette in that outfit...