Some girls choose their bridal party like this: "OMG-I-just-got-engaged-you-HAVE-to-be-my-bridesmaid!!!" Within a week, their bridal party is finalized. :-) Mine wasn't as easy - I didn't want a super large bridal party, but I didn't want anyone to feel left out. In the end, there was no easy way about it and I ended up choosing a bridal party of my sister (maid of honor), my cousin, 2 grade school friends, 1 college friend and 1 medical school friend. I hope everyone realizes that I would have the whole world in my bridal party if I could (seriously)!!!
At the moment, Aaron is the only person who knows me that knows about my blog (to my knowledge). I wanted to wait until I choose my bridal party to share it with people! Today I dropped my cards to my friends in the mailbox, this weekend and next week I'll be eagerly awaiting phone calls! Then we can get excited together and I can share my blog with my girlfriends and get all their feedback and ideas. :-)
I ordered my bridesmaid cards from
flapperdoodle
on Etsy. I LOVE them! So cute and unique. I got to personalize the girls by choosing hair color, skin color and hairstyle. Inside, I wrote each of the girls a note. :-) I'm super excited for them to receive their cards in the mail, it's not too often you get a handwritten note these days! To make the United States Post Office really love me, I addressed the cards with a gold metallic pen (hope the machines can read it okay!) and sealed the envelopes with a monogram. This is my first wedding project I get to share with others! Yay!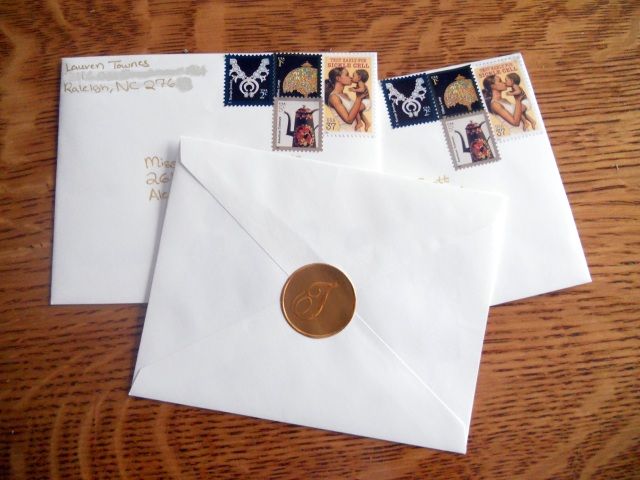 The multiple stamps came out cute but it wasn't intentional.
I really didn't have any 45 cent stamps!