So, I love my wedding gown. I think it's gorgeous, unique and everything I was looking for-and more! If someone had asked my to sketch my dream gown before shopping, I would have sketched a gown that was similar to the gown I picked in silhouette, but it wouldn't have been a carbon copy. My dress has a few elements that I wasn't expecting, but totally love.
Even though I have my gown picked, I still love looking at gowns in magazines and on pinterest and seeing what catches other girl's eyes. Occasionally, there are a few gowns that catch
my
eye-but not for my wedding, but for my alter ego's wedding. :-) Let's take a look...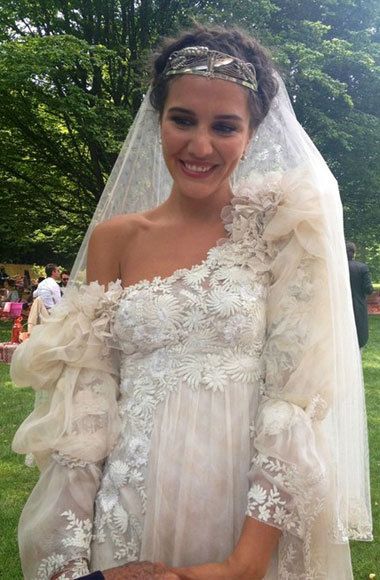 Magherita Missioni got married this weekend, she's the inspiration for this post.
Her dress was designed by Giambattista Valli* and she is glowing!!!
Romantic and gorgeous.
I love this dress by Turkish designer Dilek Hanif.
If I were a little more "look at me!" this would be my dress.
Rosie Hungtington-Whiteley in Dolce & Gabbana.
Perfect for a simple courthouse wedding.
And of course Lazaro, for the princess brides!
*edit: Magherita later clarified that the dress was a collaboration between herself, Giambattista and the women of her family :-)