Hello there! I hope you had a great weekend. Mine was pretty busy. I finished up my family medicine rotation on Friday, packed up and left Wilmington, drove home to Raleigh,
saw Florence & the Machine
- they were awesome!!! The live music was amazing and the Florence's voice was beautiful, of course. Florence Welsh, Regina Spektor, Kate Nash-I think they're all super women in the music scene these days. Their music is so refreshing.
Florence behind the screen :-)
Aaron in front of the stage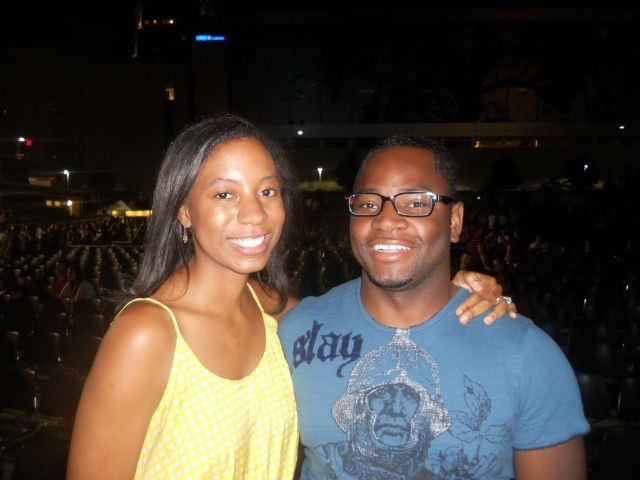 Us after the concert...I know you'd rather see Florence
but I couldn't get very good pictures due to the lighting.
Saturday was all about the wedding-my mom, aunt, Allison and I looked at bridesmaid dresses and then went and picked up my bridal gown! Putting it on was so exciting. There was a slight problem with bunching of the underlayer, but the seamstress at Bridal Mart fixed it right away. The dress was also heavier than I remembered-good thing I'm not getting married in July! It needs to be taken in a bit and bustled, but I'm sure it will be perfect!
Bridesmaid dress shopping went well too. We went back to Gorgeous Gowns and tried on the silver dress I had on in my last post, still loved it. But then the sales girl pulled a dress extremely similar-sweetheart, flared skirt dress by Alfred Sung that comes in the dupioni fabric as well. Now I'm not quite sure which is best, my mom took photos of Allison and I in the dresses side by side so I can look at them and compare. I'll post the photos soon, they're on my mom's camera so it'll be a few days until she gets home from vacation.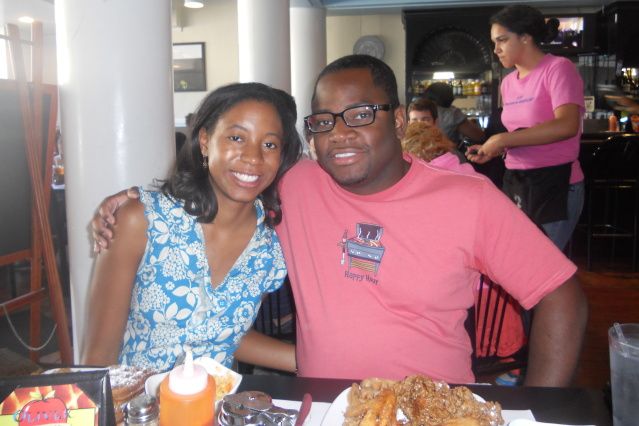 On Sunday after church, Aaron and I met John and Dawn for a delicious brunch at Dame's Chicken and Waffles!!! It's was fabulous, mouth-watering. I got the gingerbread waffle topped with fried chicken breast and a maple pecan spread. It came with a side of macaroni and cheese too, I was in heaven!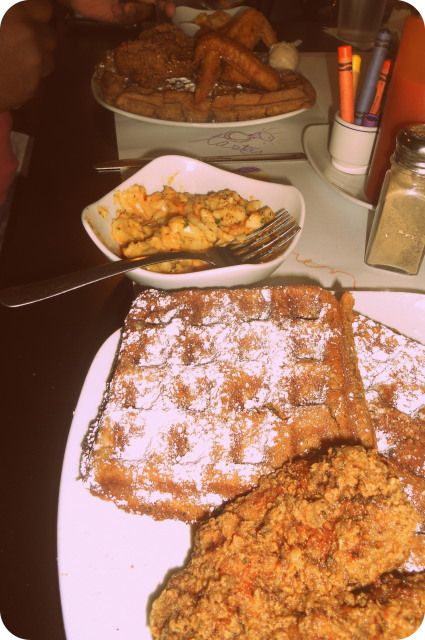 Tell me, how was your weekend? :-)