People have been coming up to me saying, "
3 months! Are you done planning yet?"
The answer? Heck no!!! But today, I got a hair stylist-Tracey Spruill! I actually found her through my make-up artist, Tiwa Lawrence and a wedding they worked together on last year. I thought the bride and bridesmaids' hair looked totally cute so I contacted her. She's actually located in Charlotte but originally from the Triangle, so she was totally agreeable to coming home for a weekend to do my hair as long as I came to her for the trial. I told her Aaron's mother is throwing a couples shower (!!!) for us in one month and she was actually free that weekend to meet-up, so it was all easy!
Here's a pictures of her work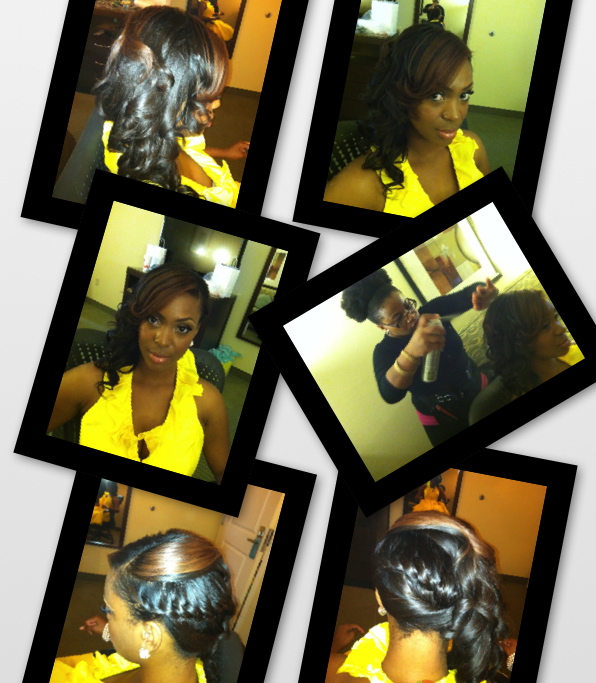 Here are the pictures I sent Tracey for my own hair day of.
I'm pretty excited for the trial. I might need a little hair added to fill out my side bun, but I made it clear to Tracey I'm not looking for anything tacky or noticeable and we're totally on the same page. Her portfolio is awesome and the times she added hair on girls I couldn't even tell.
As for the bridesmaids, I'm letting them do their own hair. Up, down, whatever they feel most comfortable with. A few of the girls are rather skilled with a flat iron in case anyone needs help. For my cousin's wedding, we all did our own hair and it worked out totally fine!
The wedding to-do list may be long, but I've just made another CHECK!