I think I'm the lamest bride ever. All my bridesmaids are out-of-state working, in college, or in medical school so the majority of the time I'm searching for bridesmaids dresses solo. It's nothing like
Say Yes to The Dress: Bridesmaids
....I suppose I could develop a multiple personality disorder though!
Here's what I was looking for in a bridesmaid dress
-strapless with a sweetheart neckline-not a must, but I like the style
-a fun skirt, meaning some sort of poof rather than straight down. I think weddings are about being girly :-)
-a price less than $200, hopefully closer to $150. I don't think weddings should be about bankrupting your friends.
I always figured my bridesmaids would wear the same style, but it's really up to them. Everyone in different dresses always looks cute and modern. However, if they were the same dress we could play with necklaces...
Bridesmaids in different statement necklaces....
Bridesmaids in timeless, pearl necklaces
What do you guys think??? What do you prefer?
Now onto dresses...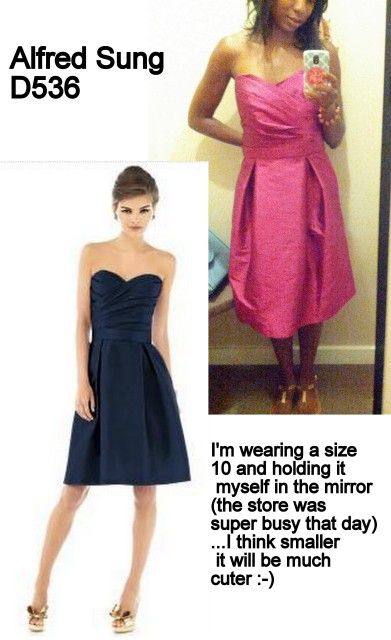 Possibly the top contender. Imagine this dress it if wasn't 3x too big on me, if i wasn't taking a picture with a cell phone and if the bottom was pressed. That's what happens when you go shopping solo. I think it'd be pretty cute, it comes in the silk dupioni (I'm wearing a different, less structured fabric in the pic) and it's priced around $150. A couple pics down I'm wearing another Alfred Sung dress with the same skirt in the dupioni, so it may help you get a better idea of what this dress would like if we went with it. The model is wearing the dress in dupioni too. There's a pic of the dress
here
on a dress form, for some reason the matching solid belt (sold with the dress) is not featured however. I'm wearing it in the pic above and so is the model, it just breaks up ruching in a nice way.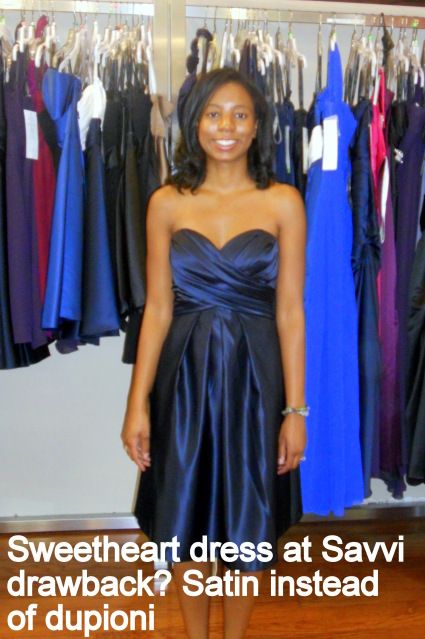 Another cute dress, but satin-y.
Alfred Sung D500 in dupioni (same bottom as D536)
This dress has the same bottom as the sweetheart dress in the first picture. The difference is, here the dress is pressed and shown in dupioni, so it's more structured than the peau de soie I had to try the first dress in. It's also a size 6 with a clip in the back instead of a size 10. This dress with sleeves is cute, but I don't know if I want to see this dress on 6 people standing side by side. Weird?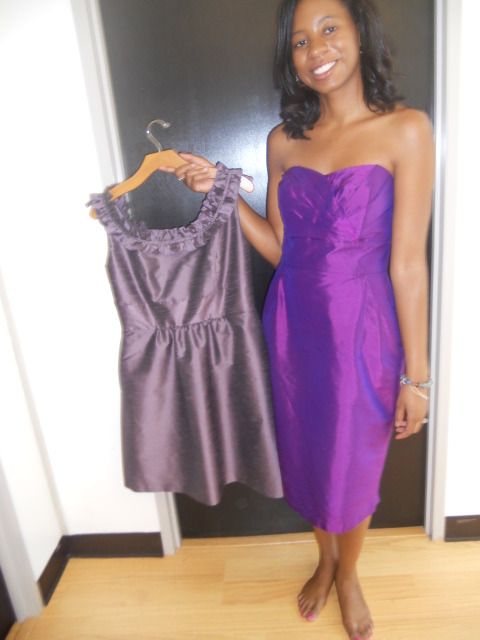 Lula Kate
This dress is by Lula Kate, a super cute designer based in Charleston. You can mix and match your bottoms, so I could get the top of the dress I'm wearing with the poofier bottom of the dress I'm holding. Lula Kate's dresses cost around $230, so I don't feel comfortable asking my girls to pay that much. However I'll throw the option out there in case my bridesmaids are ballin'. :-)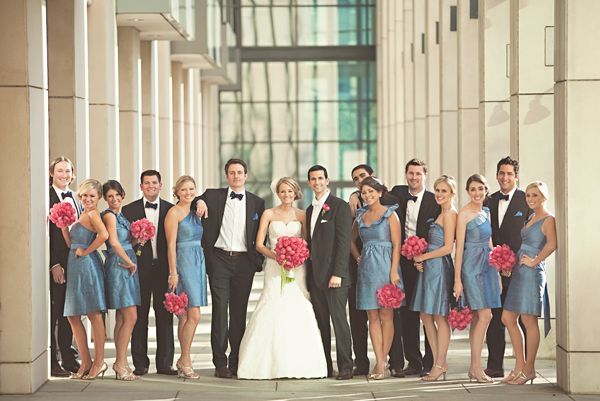 A Lula Kate wedding.
I'm trying to get all of bridesmaids to look at this post, so if you're on here please comment below what you think! Sorry you have to use your imagination for some dresses, stores don't carry samples in all the fabrics and most are the sizes are huge. If we can't get a final consensus, I'm open to just settling on a designer and letting girls pick their own the dresses. Just beware, not every dress looks as cute on as it does on the model online! That's why
this
dress didn't work. I went through a lot of dresses to find these :-) Oh, and all the dresses have pockets!!