Now that I'm married, I've been totally obsessed with nesting. Aaron's house-*ahem*
our
house
-is a total bachelor pad and in need of a rehaul. There is even wallpaper on some of the walls! However it's 2 bedrooms, 2 bathrooms with a formal dining room, really all that a newlywed couple needs.
Living Room Inspiration
Do you think Aaron & I could keep a white couch clean? As you can tell, I love the tufted look. Perfect with a patterned chair. I was thinking of a cream, navy and lavender color theme with gold accents.
I know it will take a couple years to get this together as we're broke newlyweds and I haven't even worked for a half a year yet. I'm just starting small scouring TJ Maxx and Homegoods. Occasionally I skim craiglist for a nice couch, too, but so far no luck. I'm saving my pennies and maybe next year I'll be able to make some big purchases.
I've also been thinking a lot about our dining room! Our dining room is really not that special. It's half painted peach from where Aaron attempted to take down the wall paper and then the second half of the wall, below the banister, is a faint tan because it never had wallpaper and Aaron never bothered to paint white like I requested. Since we do have a banister it'd be a good candidate for wainscoting, like below.
I've been trying to keep fresh flowers in the house and have been trying my hand at arranging 3-for-$12 sets on our dining room table.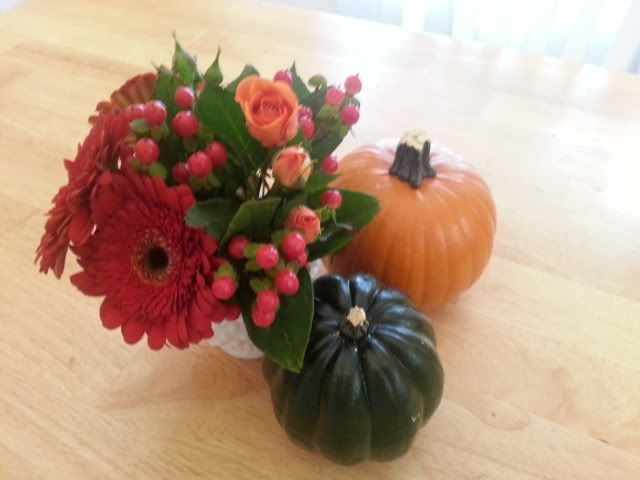 I added some baby pumpkins for some fall fun.
This is a baby arrangement and the rest of the flowers I place in the living room.
I also think a good deal about our china. We were lucky enough to get 8 place settings and I've placed it in my grandmother's china cabinet in our dining room.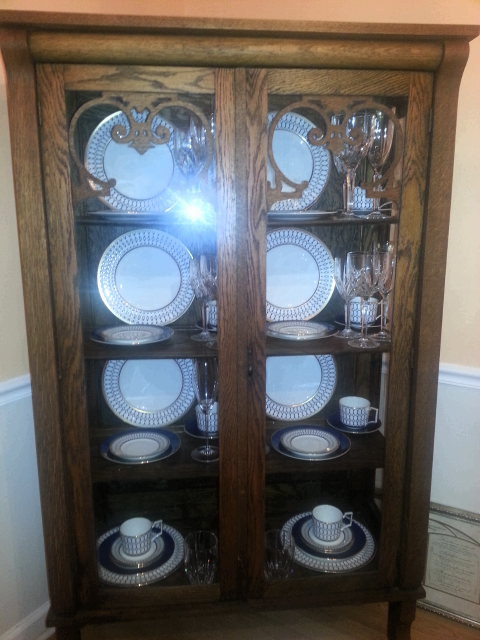 Notice the banister?
I love our china and we've already had guests over and eaten off of it. But for
some
reason I still wanted to add some extra pizzazz to it. We don't have dessert plates, only salad, so I thought that was an area where I could break out from the pattern.
I looked at some gorgeous china makers such as Herend, Royal Derby and Mottahedeh. These brands all make gorgeous china settings that go for about $600 a place setting. Ha, not happening, no matter how much I love Herend Fortuna Blue.
So pretty, but not really the look I'm going for.
I kept going back to Mottahedeh Tobacco Leaf as the perfect dessert plate. Not only did the navy and gold fit in with my china, but the beautiful plates could be mixed with my solid salad plates for an afternoon tea or shower.
Just gorgeous, huh? The perfect plate to end a wonderful dinner! I still had quite a bit of Belk money in gift cards and I just kept thinking about it. I could dwindle my gift card money away slowly on skirts and dresses, or I could just take the plunge and invest in china I'd keep for years. The Belk registry completion sale was all I needed to say sold! I'll be picking up 4 dessert plates this weekend and can't wait to bring them home. Right now it's hard enough cooking for 2 friends to come over so I think that's all we need for now. I had a lot of fun mixing them in with my setting at Belk and was surprised to see how many other young girls were there looking for china as well. I am not entirely crazy after all.
Getting a pinterest worthy house is hard work and it'll only come little by little but I'm enjoying it! In my next post I'll talk about kitchen and bedroom aspirations! :-)