Hey guys! I was going to post wedding pics today, but I decided to wait and share some other experiences as well. So I'll start with dress shopping!
So my wedding dress budget was modest, about $2,000. I'm not sure how we came to that budget, my entire wedding budget was done on on a whim...but more on that later! The important thing is, whatever your dress budget is I suggest you try to stick to it. Simply because you buy the dress so early in the process, you have like 9-12 more months left to blow your budget, which if you're me, you will! :-) I can't imagine being like the girls on Say Yes to the Dress and going 4k over and trying to cut that money from other places. But at the same time, don't settle on a dress either! Instead, just keep looking.
I literally hit up every wedding store in Raleigh. I wish I had pictures of the dresses I tried on to show you, but I deleted them out of fear Aaron would find them.
Since forever, I had wanted a lace, mermaid wedding dress. Here were some of my inspiration photos I collected via google
This Tara Keely dress had some modern touches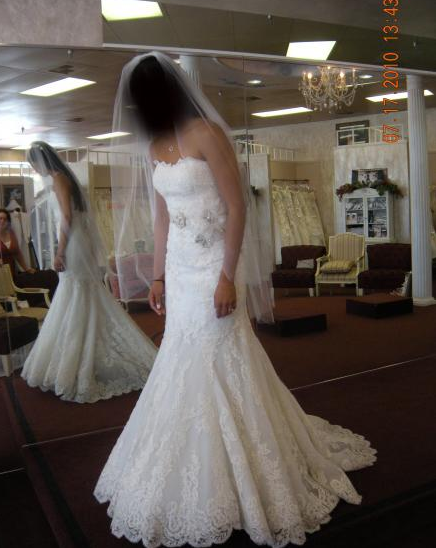 But this dress was the traditional look I was going for
And I loved this dress, sans bow, it just needed lace on the trim.
I had my vision and was ready to go. I had won $1,000 to Traditions by Anna at a bridal show so they were the first place I went, so excited. They are a gorgeous store in North Hills that carried very nice designers, such as Romona Kevesa and Ann Barge. I went on a quiet afternoon with my mom and had my first wedding dress shopping experience. I felt to verify my vision I needed to try on a dress of every style-ballgown, A-line, straight silhouettes and of course, mermaid. So I did and out of all the dresses, this stood out
Lee Ann Belter Annabelle dress
Unfortunately the lace wasn't all over. Due to my credit, my budget was increased to 3k at Anna's but they still told me they didn't carry lace dresses in my budget. Feeling defeated, I left Anna's and my one thousand dollar credit to check out what else Raleigh had to offer.
I went to other shops, notably Victorian Rose, Lana Addison and David's Bridal. I dragged my feet into David's Bridal, the last place I wanted to shop. However, the Vera Wang dresses were surprisingly cute.
Beautiful, but a bit too trendy for me. Plus they had no real lace dresses or mermaids. I was beginning to realize that mermaid is an expensive silhouette to make and lace is an expensive material. :-(
At Lana Addison, it was more of the same. They put me in some beautiful Pronovias dresses that were budget friendly and lace, but they didn't have the fitted shape I wanted.
This was the Pronovias dress Lana Addison put me in. I don't remember the price, but I guess they are not as expensive as the ads elude to. However the dress, while gorgeous in the picture, appeared to have a much straighter silhouette in person due to the sheer overlay. So it was a no go.
My mother and I shopped in spurts-we would spend one day and visit 3 stores. Other places I went to were Bridal Boutique of NC (now closed I believe), Gorgeous Gowns in Cary and Carolina Bridal World in Smithfield. Not really much to mention there, but you see I kept an open mind and basically went to every salon. I had a really in-between budget - I couldn't afford a designer gown and didn't need to shop at an off-the-rack the store either. That's where Victorian Rose came in. Their selection, along with another store in Gastonia called Poffie Girls, were probably among the most diverse out of all the stores I visited. Both stores had dresses at my price point that I could consider without settling for or reaching beyond my budget. I'll recap and review Victorian Rose, Poffie Girls and Bridalmart in my next post! :-) Happy Friday y'all!