So it's finally time to get back to this blog and recap the wedding!!!
It was amazing. Seriously, the wedding of my dreams. I say this realizing I was very lucky and very fortunate, for it is true that a wedding is just a day and it is rather crazy to spend a year plus obsessing over it. Yet, for me it worked out :-).
I'll start with the weekdays before first and then share the pro pics from the day of starting tomorrow.
Monday-Thursday
These days were filled with last minute things, including staying up until 3 am on Wednesday night finishing the seating chart. 270 people ain't easy to seat, y'all. Thank goodness for Aaron, however. He took the time to really think about who we sat with who and even did things like break up parents and their teenage-to-adult children, which really worked out well. He also thought about where we put the tables around the dance floor and that was smart as well. Most of my tables were 60 inch rounds that sat 8 people but I did have three 12 foot box tables that sat 12 people. The rounds had navy linens and the box tables had blush linens. I didn't do a head table, instead I mixed up the wedding party with everyone else. We sat close family and the reverend at the two tables that neighbored our sweetheart table.
By Thursday I was pretty much done with everything and just running last minute errands. My bridesmaid and bff college roomie Ebony arrived Thursday night and I was just so happy to see her! Having a girlfriend beside you as you finish errands is so much nicer.
Friday
Andrea (college friend, singer) arrived early that morning and all I had to do was pack for the wedding + honeymoon. The morning went pretty smoothly until I temporarily lost my cell phone and a freak torrential rain storm passed through Raleigh. However, that was the last of my bad luck and then it was time for the bridal luncheon!
Outside of Piebirds with Lauren (bridesmaid) and Emily (singer)
We've all known each other since kindergarten!
My mom and I didn't take very many pictures because we were having too much fun so I had to rely on google for the ones below :-)
Piebirds is such a cute restaurant in downtown Raleigh. They had a side room with a long table and a sitting area which created a nice private setting for the luncheon! It was a nice time for everyone to meet everyone and some of my aunts came as well. The food was delicious-everyone was able to pick a hand pie (pic above) and side for themselves. I had the curry chicken pot pie with fresh peas and mint-heavnely. For dessert, we shared two large dessert pies-salted caramel cream and mixed berry. I would recommend it to anyone, especially since it was pretty inexpensive.
I also handed out gifts!
For the bridesmaids I did custom clutches by
Jenna Lou Designs.
I really wanted to give a gift that wasn't just something I wanted them to wear in the wedding and they may not want or use it again later. The clutches were a fun gift and I got to pick the the fabric and monogram color for everyone. For my songstresses, I gave them assorted items I picked out over time- earrings, stationary and a candle for Andrea and a really cute book titled "All Smiles" for Emily. I also had gifts for the kids, Barbies for Grace and Matchbox cars for our ring bearer (who wasn't there, but his mom and sister were).
After the luncheon we checked into the Hampton Inn on Glenwood South. Ebony and I had suites next door to each other which were perfect for getting ready the next day. We just relaxed until the rehearsal dinner which was at 5 that evening.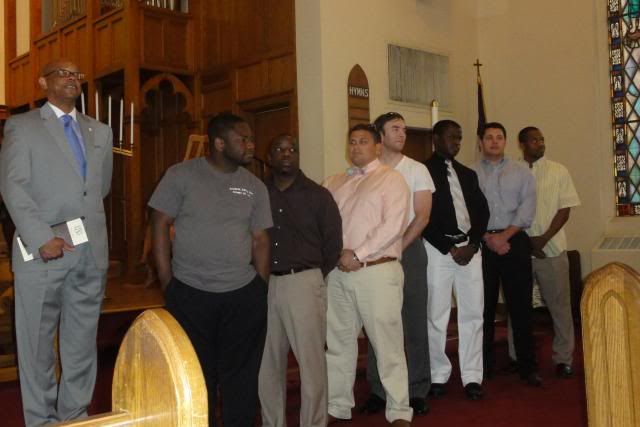 The boys practicing...before my aunt yelled at them to face the same direction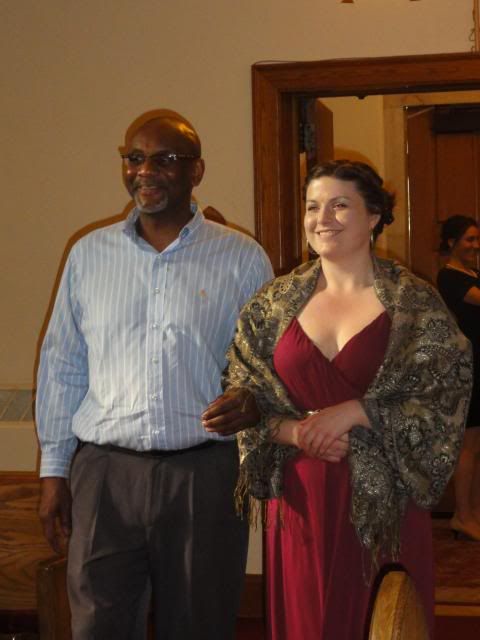 Emily walking in with my dad.
I wasn't allowed to rehearse because I was told it was bad luck.
The rehearsal went pretty smoothly-easy for me to say since I just sat the whole time! It made it hard to pay attention so almost everything the reverend said to me on Saturday was a surprise. My aunt was the coordinator and thank goodness, because I have only been in one wedding besides my own and didn't really know the proper order of things. My mom, aunt and reverend made all the decisions which was fine with me. Aaron & I have been to three weddings since ours and now I see that I really had quite the traditional ceremony. Our reverend is from an old country church and he performs about 2 weddings a year :-). My dad didn't give me away until halfway into the ceremony and my blusher stayed on until the kiss. Again, fine with me but likely representative of an older, traditional ceremony lol.
After the rehearsal, around 7pm we went to 18 Seaboard for the rehearsal dinner. We didn't pay for alcohol which I was initially worried about but no worries-our friends had no trouble hitting up the bar on their own! Just wanted to include that detail in case any girls are reading this planning their wedding and sweating the small stuff. :-)
The food was fabulous. We had a large, private room and 18 Seaboard gives you a menu of about 3 appetizers and 6 entrees. For anyone who hasn't been, they're basically like upscale southern food. I had the she crab soup and pork shoulder with grits and it was wonderful. They also do desserts, but we opted to have the grooms cake at the rehearsal dinner instead. Blue Moon Bakery prepared a beautiful N.C. State cake for us to cut. I didn't want to cut the cake at the wedding because I wanted people to eat and enjoy it and to not ave any leftover.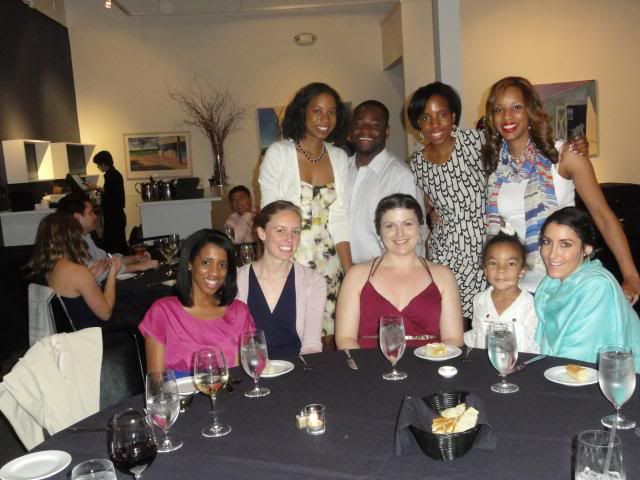 Girls at the rehearsal
Delicious strawberry grooms cake with plates 18 Seaboard decorated for us with chocolate :-)
After dinner, Aaron and I had a small afterparty at The Wine Feed, a wine shop and event space on Glenwood South. Our friends are the owners and they were fabulous in helping us with choose wines for the afterparty and wedding. Besides the wedding party, we had also invited some close friends who lived in the area or were already in town for the wedding. For both the rehearsal dinner and the afterparty, the invites were word of mouth only-yay to no stamps or stationary! Just don't forget to invite anyone!
Our afterparty had a good turnout (about 30 people present at any given time) and I had fun, but left early to get some beauty sleep for my big day. I got back to the hotel around 11 and hit the bed a little after 12. It was time to get married!!!