Hello everyone! Sorry I have been M.I.A. for the past couple of months. School got INTENSE...surgery and internal medicine back-to-back meant 16 weeks of long hours and little sleep. On surgery my work days were usually 11-12 hours while on internal it was 10. I enjoy the opportunity to serve people but I don't want a career that IS my life. I want to have my life and a career that makes it possible. So I'm very happy those long hour rotations are done and I can move onward onto my goal of becoming a psychiatrist...less than one year of school left! Enough on school, I could go on for hours on the pros and cons on becoming a doctor and I only know sliver of them. More importantly, I'm ENGAGED!!!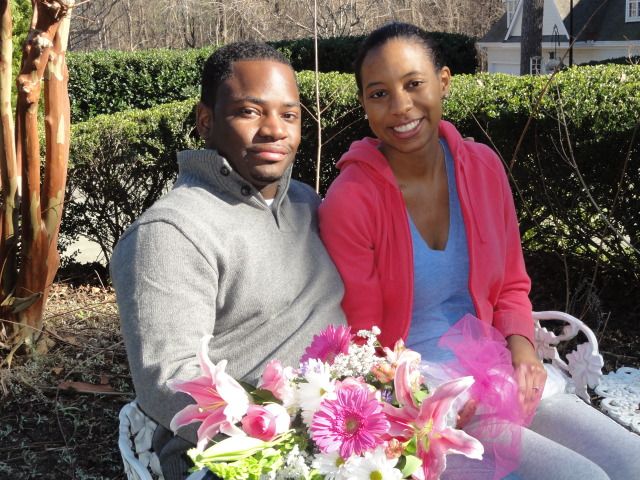 We got engaged Dec. 30, 2011. I'm a little late in sharing the news, right? He totally had me surprised. I had finally convinced Aaron to join my dad and I for Zumba at the YMCA one morning. Aaron arrived 10 minutes late! I was a bit upset but we snuck into the back of the class and everything was fine, we danced the next hour away. After class, Aaron went to the weight room with my dad. I headed home because Aaron and I were having a party later that day and I wanted to go get things together. 45 minutes later, Aaron showed up at my doorstep! Aaron had actually asked my dad for permission to marry me at the YMCA (ideal setting lol).
I let Aaron in, surprised because expecting him to be at his house cleaning for the party later on. I had showered from class but still put on sweats so I wasn't look particularly stellar. Aaron hung out with me for about 30 minutes or so and when he said he was leaving, I walked him to his car. He pulled out this beautiful flower bouquet! He told me it was decoration for the party...but it looked more elaborate then any bouquet he'd ever bought for me. Then he asked if we could sit on the bench in my mom's garden. At this point, I had a slight hunch something was up but I still convinced myself it was too soon (I was expecting him to wait 1-2 more months). Aaron got down on his knee and pulled a ring! He asked me if I would be his wife and of course, I said yes!!! It was so beautiful and perfect. One of the best parts was since this was at my house we could go inside and show my family. I was so happy I started to cry! It's funny how extreme emotions cause irony like that.
Aaron proposed to me with a gorgeous diamond solitaire and said we could pick the setting together. I wore the solitaire for about 10 weeks and then we placed it in a Tacori setting, you can see a picture here of the setting. And now...we are a planning a wedding! And this blog will become a wedding planning blog for the next year :-)

April 13, 2013!!!